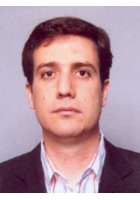 Ivailo M. Pandiev received the M.S. degree in electronic and automation engineering, and the Ph.D. degree in electronic circuit theory (integrated circuit modeling) from the Technical University of Sofia, Sofia, in 1996 and 2000, respectively.
Since 2006, he has been an Associate Professor with the Department of Electronics and the Head the Analog Electronics Laboratory, Technical University of Sofia. He is the author or co-author of 14 books and approximately 120 papers in international journals and conference proceedings. His current research interests include device modeling, analog circuit design, and mixed-signal electronics.
Dr. Pandiev is a member of the Bulgarian Union of Electronics, Electrical Engineering, and Telecommunications.
ORCID: http://orcid.org/0000-0002-2220-5184
ResearchGate: https://www.researchgate.net/profile/Ivailo_Pandiev2
Laboratory: http://ecad.tu-sofia.bg/analog_circuits/
Go Back